Every aspiring musician dream to have his/her music to be heard and appreciated. Merely being talented is not enough. Reaching the right audience and promoting work is the key to success. Our music band WordPress themes can help you achieve your dream and reach out to a much wider market without any effort. Take a look at our collection of WordPress themes that will comply with all the needs of a modern recording studio.
Rehearsal – WooCommerce Supported WordPress Theme
Rehearsal is a professional music WordPress theme perfect for launching your musical career. The theme is WooCommerce supported so you can easily sell your used musical instruments and products. The theme has more than 10 customized shortcodes and anyone can set up the website. The interface is really simple and does not require any coding language.
Beatswave – Bootstrap Framework 4 WordPress Theme
Beatswave is a creative WordPress theme for music studios, musicians, bands and artists. Built on the Bootstrap Framework 4, the theme works on all devices like laptops, smartphones, tablets, and PCs. Super responsive and intuitive, the theme is packed with some premium plugins like Revolution Slider and WPBakery Page Builder.
Glorio – Audio Waveform Player WordPress Theme
Glorio is a premium music WordPress theme for sound and recording music studio. The theme is highly responsive loaded with powerful widgets like Audio Waveform Player, WooCommerce integration, and Page Builder optimization. Apart from this, the theme has an Instagram widget which will help you be connected with the social network.
Melody – Mobile Friendly WordPress Theme
Melody is a beautiful WordPress theme for music festival, studios, rock bands, and musicians. The theme is mobile friendly and works well on all devices. Talk about your music and introduce visitors to your team members in the biography section. There are special offers, ticket passes, and press releases for your lucky fans.
Audio School – Full-width Slider WordPress Theme
Are you looking for an online music school? Try our music school WordPress theme. The theme is perfect for music schools, music studios, sound engineering colleges and organizations, and production houses. Add different images of various sizes and resolutions through the Full-width Slider feature and get noticed immediately.
Recording – Master Slider WordPress Theme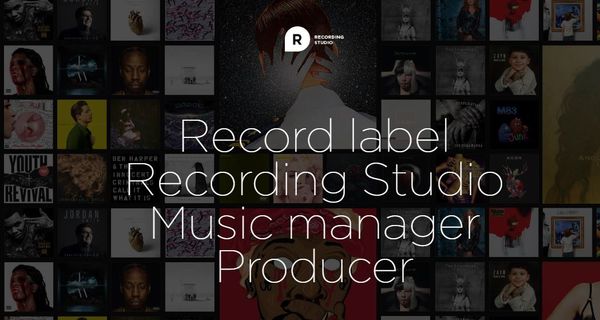 Recording is a powerful and compact music production WordPress theme for record labels, music studios, artists, producers, and entertainment industries. The theme is quite impressive and is perfect for music releases. The Master slider will help you to give a professional look to your website and get the maximum attention possible.
DJ Beatmix – JetMenu WordPress Theme
DJ Beatmix is a new WordPress theme for music productions, DJ music collaborations, and musicians. Powered by the JetElements plugin the theme is loaded with widgets and features and no coding language is needed. The JetMenu is also a useful feature which will help you to create a mega menu with different sections.
Music – Visual Elements Plugin WordPress Theme
Music is a top WordPress theme specially designed for musicians, bands, and entertainment industry. The theme is packed with features like Visual Composer, Revolution Slider, and WooCommerce so you need not worry about your next music release. The Visual Elements plugin is an add-on and helps you to add amazing contents to your website.
Music Hall – WPML Ready WordPress Theme
Music Hall is a best-in-class WordPress theme for musical studios, music bands, and musicians. The theme is optimized with numerous features like HTML5 audio player, custom posts, MP3 player, and SEO which will make your music business flourish in no time. The theme is WPML integrated so you can now work with bilingual customers easily.
Music Producer – Events Plugin WordPress Theme
Music Producer is a mobile responsive WordPress theme for music albums, music bands, and artists. The theme has a playlist option where customers can play and choose albums they want to buy. Furthermore, there is an Events plugin which will help you to book upcoming events of bands and performing artists.
SongWriter – Header Banner WordPress Theme
SongWriter is a social media WordPress theme for music bloggers, vocalists, sound designers, music composers, video game creators, and music teachers. The theme has a Header Banner which can promote the promotional song of your brand. There are also 7 different blog sliders which you can use to describe the content of your productions.
Morning Records – One-click Demo Install WordPress Theme
Morning Records is a premium WordPress theme for music production companies, bands, sound recordings, and musicians. The theme with the one-click demo install is easy to set up. If you want an online music training website you can feature your music courses and lessons on the site.
Singerella – Cherry Framework 4 WordPress Theme
Singerella is an HTML5+CSS3 WordPress theme for music schools and music studios. The theme built on Cherry Framework features a bunch of useful tools and widgets that will help you manage your website with no effort whatsoever. The Live search and the MegaMenu allow visitors to search contents and reach the desired pages easily and fast.
128 Music – QuickStart Package WordPress Theme
128 Music is a creative WordPress theme for music bands, DJs, singers, live music, music studios, and musical events. Showcase your personal musical blogs through this unique WordPress theme. The QuickStart Package will help you run your website in no time and without any effort and comes with tons of options.
Music – Responsive WordPress Theme
Music is a responsive WordPress theme for professional musicians, bands, and music studios. Feature your latest albums and musical tours through this customizable WordPress theme. The theme is extremely responsive and will share all your tour dates and timings through the tour display template page.
TuneTrack – Testimonial Section WordPress Theme
TuneTrack is a drag and drop WordPress theme for music schools, music composers and singers, sound engineers, and production houses. The theme will feature all your musical recordings, events, concerts, shows, and band members along with beautiful images on the home page. Receive feedback from fans and other musicians regarding your music in the Testimonial section.
Music Club – Bold Builder Optimized WordPress Theme
Music Club is a multilingual WordPress theme for bands, music studio, DJ, singers, and musicians. The theme is elegant and responsive. The theme has also been designed to be Retina-ready so that it fits all screens sizes. The theme uses the Bold Builder which is a modern visual page builder that loads the website fast and is also easy to use.
Pliant – Google Fonts Optimized WordPress Theme
Pliant is a best-in-class WordPress theme for music artists, bands, production companies, and music studios. The theme comes with more than 800 Google fonts and 25 WPBakery add-ons. The highly responsive theme loads up really fast and is also integrated with bbPress and WooCommerce.
Elektra – Cross-browser Compatible WordPress Theme
Elektra is a professional WordPress theme for musicians, artists, music bands, and producers. The theme is cross-browser compatible and supports all the major browsers like Firefox, Chrome, Android, iOS, and many more. The beautiful background images, typography, and patterns make the theme really attractive to visitors.
Classical – InkMember Plugin WordPress Theme
Classical is a multipurpose WordPress template for musicians, performers, musical bands, DJs, and recording studios. The theme features the InkMember plugin which is integrated with different payment plans for your online videos. It also supports the popular PayPal payment gateway.
Music Band – Custom Audio Player WordPress Theme
Music Band is the WooCommerce compatible WordPress theme for musicians, live events, and music clubs. The theme is compatible with WooCommerce so you do not have to worry about promoting your brand online and the Event Calendar for online booking of your events. You can also showcase your audio tracks live on the homepage with the Custom Audio Player in the most fascinating way.
Conclusion
All the themes are inspiring and multifunctional and will help you in every step of your online promotion. The themes are smooth and provide backend support just enough to highlight your music videos and productions. So, grab onto our powerful themes and pave your way to become the next big superstar.